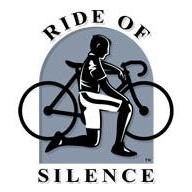 Gestern war wieder der weltweite Ride of Silence – eine besondere Form des Gedenkens an gestorbene Radfahrerinnen und Radfahrer. Seit 2003 ein paar Freunde aus Dallas die Idee bei der Beerdigung eines Freundes hatten, der bei einem Verkehrsunfall ums Leben gekommen war, geht diese "Gedenkfahrt" um die Welt.
Ähnlich wie bei einer Critical Mass kommen Radfahrerinnen und Radfahrer zusammen, um gemeinsam zu fahren – allerdings schweigend. So soll getöteten Radlerinnen und Radlern gedacht werden. Die Durchschnittsgeschwindigkeit der Fahrt sollte nicht schneller als 20 km/h sein, damit die "Ruhe" nicht gestört wird und keine Hektik aufkommt. In den USA wird der Ride of Silence von der Polizei und verschiedenen Behörden unterstützt, wie mir Mark Hagar, Ride of Silence Vice President, mitteilte.
To HONOR those who have been injured or killed
To RAISE AWARENESS that we are here
To ask that we all SHARE THE ROAD
Mittlerweile gibt des den Ride of Silence in vielen Städten weltweit, darunter San Fracisco, Montreal, Kungsbacka (Schweden), Zamora (Spanien) und Tel Aviv. In Deutschland aber leider noch nicht, wobei sich hier das Einsammeln der Ghost Bikes vom ADFC in Berlin anbieten würde.
Der diesjährige Ride of Silence fand auf der Norhalbkugel am 21. Mai statt. Auf der Südhalbkugel wird am 24. Mai gefahren. Auf rideofsilence.org gibt es mehr Infos und eine umfangreiche Liste mit Städten, die teilnehmen. Eindrücke von gestern gibt es zum Beispiel bei Twitter:
Oakland, Kalifornien
Richmond Ride of Silence #HiAP @BikeEastBay @Rich_rides pic.twitter.com/whA0I8Aw26

— Richmond Env&Health (@Richmond_EH) 22. Mai 2014
Temecula, Kalifornien:
Very large group this year in Temecula. #BikeIE #ROS #RideOfSilence pic.twitter.com/4fCEgfQIY0

— Zak (@SchwankyTown) 22. Mai 2014
McAllen, Texas:
380+ cyclists showed up to the Ride of Silence last night in McAllen, Texas #RideofSilence #ride4eddie #ridemcallen pic.twitter.com/HIMP7o6MCE

— Ramon Hermida (@rhermida) 22. Mai 2014
Und ein Gedicht gibt es auch, von Mike Murgas:
Today we number many but ride as one
In honor of those not with us,
friends, mothers, fathers, sisters, sons
With helmets on tight and heads down low,
We ride in silence, cautious and slow
The wheels start spinning in the lead pack
But today we ride and no one attacks
The dark sunglasses cover our tears
Remembering those we held so dear
Today's ride is to make others aware
The road is there for all to share
To those not with us or by our side,
May God be your partner on your final ride.
Und hier ist ein kurzes Video vom Ride of Silence 2014 in Temecula. Bei youtube kommen immer mehr aus diesem Jahr rein, auch aus anderen Städten natürlich.

Video:
youtube
Logo:
rideofsilence.org